Deltomed Launches Cough Herbal for Children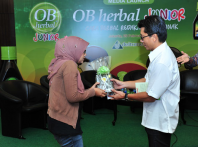 Made of 100 percent natural ingredients such as ginger, lime, kaempferia galanga, thymi, mint, liquorice, nutmeg, honey and meniran.
One of the national herbal pharmaceutical companies (modern herbal medicine company), PT Deltomed laboratories, has today introduced its latest innovation of its herbal cough medicine product, named OB Herbal Junior a special herbal cough medicine for children.
Its products are made of 100 percent herbal ingredients, consumable for children, halal and as good as conventional medicines. The OB Junior Herbal Formula consists of high quality herbal extracts such as ginger, lime, kaempferia galanga, thymi, mint, liquorice, and nutmeg. The accurate combination of raw herbal material extraction in the OB Herbal Junior gives a sense of warmth, relieve sore throat and is proven able to help relieve coughs without causing drowsiness. The additional meniran and honey extracts have made cough medicine as not only medicate cough, but it can also improve a child's immune system.
PT Deltomed Laboratories Managing Director Mulyo Rahardjo says that OB Herbal Junior is the first cough medicine for children in Indonesia made of 100 percent herbal extracts. "OB Herbal Junior is produced by extraction technology, namely Quadra Extraction System, which aims to guarantee the efficacy and is proven safe for children consumption," he said during today's Media Launch at Hotel Mulia Senayan in Jakarta.
Meanwhile, PT Deltomed Laboratories Business Development Manager Dr Abrijanto explained that cough is generally caused by immune deficiencies. Due to a highly uncertain climate change, changing consumption patterns and slightly unhealthy lifestyle, such decline in body immune system facilitates the entry of various diseases, especially cough. Thus, it is important for parents to maintain the health of family members, and also choose the right and safe medication for families.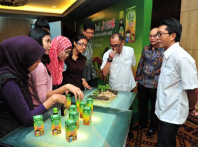 The same thing is also stated by Abdul Mun'im, MSi., PhD., a Herbal Expert from Postgraduate Faculty of Pharmacy, Herbal Department of University of Indonesia. He said that herbal medicine is highly favored because of its natural ingredients and is processed in a modern, practical, hygienic based on CPOTB standards in order to eliminate any potential side effects and to lengthen its expiry period. "This product has also gone through three phases of clinical trials at the University of Gadjah Mada (UGM), and is claimed safe for pregnant women," added Abrijanto.
OB Herbal Junior is available in 60 ml packs in pharmacies and drugstores all across Indonesia with a price of around Rp. 7500, - per bottle.